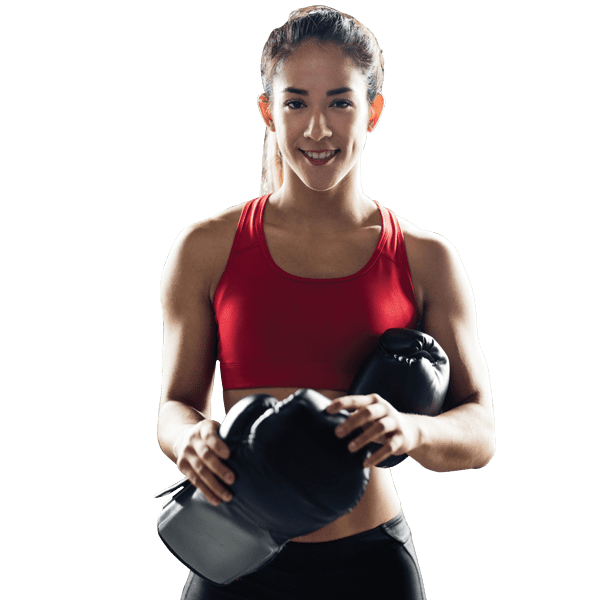 Adult (15+) Trial classes are held throughout the week on a scheduled basis. Please call the studio to find out our current sessions.
Burn fat, drop inches, and get lean & toned with these one-of-a-kind Pasadena Fitness Kickboxing classes. Learn real-life kickboxing techniques as you punch and kick your way to a fit new you.
Men and women of all ages are having a ton of fun, and are literally shocked by the fast weight-loss results. We'll also help you get on track nutritionally to help you live a healthy, happy life.
PASADENA KICKBOXING
STRAP ON REAL GLOVES AND HAVE THE TIME OF YOUR LIFE PUNCHING AND KICKING YOUR WAY TO A FITTER, SLIMMER, HAPPIER YOU.
YOUR PURCHASE IS COMPLETELY RISK-FREE! WE OFFER A MONEY-BACK GUARANTEE!
THE FUNNEST, MOST ACTION-PACKED WORKOUT OF YOUR LIFE. GUARANTEED.
Kickboxing class FLIES by! Even though it's a full-hour, full-body workout… it goes by in a flash.
That's because almost nothing on this planet is as fun as punching and kicking the heck out of a heavy bag.
You'll feel like a total pro – and your body will transform fast.
MELT CALORIES, BURN FAT, AND TONE MUSCLE – FROM HEAD TO TOE.
EVERY part of your body gets a workout in Kickboxing! That includes your arms, chest, stomach, hips, butt, thighs, and calves.
That means ALL your trouble spots won't trouble you for much longer! And every part of you will get stronger, leaner, and fitter.
In fact, you can burn up to 800 calories (or more) EVERY time you come! How awesome is that?
YOU'RE JOINING MORE THAN A CALORIE-BLASTING WORKOUT… YOU'RE JOINING AN AMAZING, SUPPORTIVE FAMILY.
99% of our members have never thrown a kick or a punch in their life! So if you're a total beginner – you're in good company!
There's nothing to be embarrassed or ashamed about! Everyone here was once a beginner – so we just want to support you and help you learn, get fit, and grow. Fair enough?
People come here for the fat-melting workouts… but they stay for the people.
Our community here is really something – and I can't wait for you to join it too.
Friendships are born all the time. People give each other support and accountability to stay on track.
It really feels like a family, and I know from day 1 you'll feel it.
OUT OF SHAPE? NO PROBLEM! IN SHAPE? GET READY TO TAKE IT TO THE NEXT LEVEL.
The great thing about Kickboxing is even though it's a group environment… everyone's doing their own individual exercises.
That means you go at a pace that's right for YOU.
Our amazing instructors will motivate the heck out of you to grow and reach new heights, too. So don't worry about motivation. We've got you covered!
What type of classes do you offer? Group or private?
Both! Most members opt for group classes, but feel free to ask any of our instructors for more info on private sessions.
Are there other beginners like me?
Yes! Our classes cater to people of all experience levels, and in every class there are people all over the spectrum.
How many people are in a group class?
At peak times, there's between 10-15. Some times have more, some less. But we make sure to have enough instructors to match the class size. That way you always get the attention you need.